Autism Acceptance Week
We were delighted to have been invited by AsIAm in Term 1, to participate in the Autism Friendly School Project 2021/2022.Here is the week in pictures! Visits from St Mary's Highschool Hub and students, Ernie the Autism Assistance Dog, visits to Cuisle by older classes, and the culmination of an amazing week – Fashion Show!
________________________________________________________________________________________________
---
Ms Walsh's class wrote some lovely Heart poems and made some prints for Valentine's Day.
Ms Moloney's class creating their gorgeous 'GRÁ' collages!
---
COOKERY CLASSES

6th Classes have commenced Cookery Classes with their teachers. First up is Spaghetti Bolognese. The girls did supermarket price comparisons, worked out the total cost of the ingredients and cost per person so there was a lot of real life learning in it along with! They were guided also in how to make sensible choices in selecting e.g. the lowest fat mince. Best of all, the whole class were served up a delicious healthy meal!
---
Check out Scoil Bhríde's facebook page to see what the girls and boys are doing, by clicking the link below:
https://www.facebook.com/ScoilBhrideMidleton/
---
---
---
---

Admissions for the School Year 2022-2023
A copy of the school's Admission Policy and the Annual Admission Notice for the 2022/2023 school year is available as follows;
The Admission Policy is available here at Admission Policy
The Admission Notice is available here at Annual Admission Notice St. Brigid's School Midleton 2022_2023
Please read the Admission Notice for important dates etc. regarding your application for admission to St Brigid's/Scoil Bhríde, Midleton, for the School Year 2022/2023, for both Junior Infants and Special Classes.
A copy of the Application Form for Admission for both Junior Infants (Mainstream) and Cuisle (Special Classes for children with a diagnosis of Autism) are available to download as follows:
Junior Infants: Application for Admission Junior Infants
Cuisle: Application for Admission Cuisle
or by emailing scoilbhridemidleton@gmail.com , or by contacting St. Brigid's/Scoil Bhríde (Presentation Primary School, Midleton, Co. Cork, P25 R248) on 021 4631593.
---
---
---
---
---
in Cuisle Early Intervention Class
---
---
in 6th Class
---
---
---
6th Class Autumn Art
---
September Fun!!
---
Please click on the following link see what class your child will be in when we return to school.
Teachers and their Classes 2021-2022
---
Please see below some links to useful information, in particular the video for Junior Infants – you might watch it with your child – There is also the downloadable advice flyer for parents, a frequently raised questions and a multi lingual resource for parents.
1. Video advice for parents and students at different levels
https://www.gov.ie/en/publication/a04fc-advice-for-students-and-their-families/#returning-to-school
2. Posters/graphics advice for parents
https://www.gov.ie/en/publication/a04fc-advice-for-students-and-their-families/#returning-to-school
3. Multilingual advice for parents
https://www.gov.ie/en/publication/0cf46-resources-and-materials-for-parentsguardians-and-for-students-on-returning-to-school-multi-lingual/
---
Click on the following link to see our Summer newsletter.
---
We had lots of fun in June!
---
---
We welcome the month of May and look forward to longer evenings and better weather. Here in Scoil Bhríde we love the hymn 'Queen of the May' and its relevance as an anthem of hope and joy is more potent this year than any other. Please sing along with the following clip.
---
We had great 'Tech Week' in Scoil Bhríde with a lot of classes taking part and honing their I.T skills.
Ms Kelly's Junior Infant's played games on the i-Pads
5th class tried programming.
We had a Kahoot quiz on the Titanic and Climate change.
Some classes took the 'Bebras Challenge' which introduces computational thinking by allowing pupils to solve interactive tasks online. Other classes took to Google maps to examine satellite images of our school and Midleton town.
First class had great fun using the school iPads and loved reading ebooks on the interactive whiteboard.
---
Mrs Casey's class have been very busy transforming our school garden into a sight to behold. We are all looking forward to seeing their produce flourish and would like to thank them for making our garden beautiful again.
---
One of our lovely students was very busy during the school closure. Margaret in 4th class has started an online baking/cooking blog – a blog for kids by kids! It went live over Easter and Margaret is now looking for guest bloggers from the rest of the senior school. You can visit her site using this link https://www.bakingforkidsbykids.com/
Maith thú Margaret!
---
A very happy, safe and blessed Easter to you all. Here are some Easter egg hunts for you to try at home.
---
A nice treat for dessert on Easter Sunday are these fudgy Easter Egg Brownies!
All you need is;
170g unsalted butter, melted, 250g caster sugar, 2 large eggs, 125g milk or dark chocolate, 100g plain flour, 30g cocoa powder, 1 tsp salt, 100g white chocolate chips, 2 creme eggs, 2 caramel eggs, 2 oreo eggs
Tin size: 8 x 8″
Add melted butter and caster sugar to a bowl and whisk until there are no lumps.
Add 2 eggs and whisk until thick and fluffy
Add melted chocolate and whisk until combined then sift in the flour, cocoa powder and salt and fold these into the mix.
Add the chocolate chips and fold these in. Scoop the mix into a baking tray and smooth it out.
Bake in oven for 20 – 30 minutes at 170 until the edges are cracked and only the middle wobbles very slightly.
While still hot, cut your Easter eggs in half and press into the brownies.
Enjoy!
---
Scoil Bhríde will commence Easter holidays this Friday, March 26th. Different classes will go home at different times to avoid any unnecessary congregating at the school gates.
The times are as follows;
Pupils in Cuisle – 11.25am
Junior Infants – 11.30am
Senior Infants – 11.35am
1st & 2nd class – 11.40am
3rd & 4th class – 11.45am
5th & 6th class – 11.50am
We are very happy with how everything has gone since the school re-opened and we do hope that it continues to remain open after Easter. However, we have decided that your children will bring home their school books at the beginning of the Easter holidays. This is a precautionary measure. We hope to send some books home tomorrow, Thursday and the rest on Friday. Only send in books that are needed in school tomorrow so that the children's bags won't be too heavy going home tomorrow afternoon. Please remember to send in these books on the 12th April when we plan to return to school.
We hope everyone has a very blessed and happy Easter.
---
Friday the 26th of March is a non-uniform day to raise funds for the replacement of interactive white boards and projectors. Please donate 2 Euro via the Aladdin App.
---
Friday the 2nd of April is Good Friday. The following is a link to a prayerful Stations of the Cross for Children which you might like to use on Good Friday with your family.
https://www.youtube.com/embed/eNOXkb8uq6g
---
Happy Saint Patrick's Day to all our pupils, families, staff and community.
Lá Fhéile Pádraig sona daoibh!
---
Engineering week had to be completed remotely this year but it was still a great success with lots of experiments carried out at home.
---
February 9th 2021 is Safer Internet Day. The following are some guidelines for parents for safer usage online and on the different platforms.
---
We celebrated Saint Brigid's Day remotely this year with beautiful homemade crosses from a variety of materials and some impressive recreations of our St Brigid's murals which hang in our senior building.
---
We had to come up with ingenious ways to perform our usual Christmas performances this year. We utilised the schools grounds and everyone enjoyed the songs, poems and hymns.
We also welcomed a very special visitor who put a smile on all our faces.
---
Congratulations to Siún and Lissi whose reindeer designs were chosen to be displayed in Midleton town during Christmas. The girls are pictured here, hard at work, putting the finishing touches to their masterpieces.
---
Sixth class made Christmas wreaths. We had great fun and had to work together in our pods to make the beautiful finished products.
---
It's beginning to look a lot like Christmas!!
---
Board games for the afternoon before The Toy Show tonight!
---
Second class designed and created turkeys to celebrate Thanksgiving!
---
Today we celebrate Nano Nagle, founder of the Presentation sisters. Happy Presentation Day!
Sixth class drew pictures of Nano Nagle
---
Science week 2020 in Scoil Bhríde
---
Please note our Child Protection Safeguarding Statement was amended at a Board of Management meeting on the 28th of October 2020 to include the name of our new Deputy Designated Liaison Person (DDLP), Mrs. Eithne Lawton, (Acting Deputy Principal).
(The Designated Liaison Person (DLP) continues to be Mrs. Síle Murphy, Principal).
Child safeguarding statement 2020 new
---
Halloween fun and games to try at home!
---
Halloween was celebrated in style in Scoil Bhríde with fancy dress, games, baking and lots of Art.
---
Space week 2020
---
Have you got Math's Eyes?
We used our iPads to capture images around our school ground containing Math concepts. What colours, numbers, lines, angles, shapes, ratios can you see?
---
Scoil Bhríde celebrated the Sacrament of the Eucharist in October. The girls had waited a long time for their special day but it was worth the wait as they were so well behaved and looked so beautiful as they received their First Holy Communion. We celebrated with a socially distanced party in school.
---
Odd Socks Day to celebrate diversity
---
Retirement
We bid a fond farewell to Ms. Ann McCarthy this October as she began a new chapter in her life as a retired teacher. Ann was a valued staff member and much loved colleague and teacher. We wish her all the best.
---
It is great to see our walls full of beautiful artwork again. This is a selection of Art from September.
---
Please read the following letter from from the acting chief medical officer, Dr. Ronan Glynn.
Open Letter ACMO to Parents English
Please click on the following pdf for advice from the HSE for Parents regarding Symptoms to look out for and when to contact your GP.
Information from HSE for parents
Please click on the pdf link for a message from the Minister for Education, Ms. Norma Foley, for parents
Letter from Minister Foley to schools
---
---
---
Trees by Joyce Kilmer.
---
26 – 05 – 2020….Collection of childrens' books with some of our staff social distancing in the school car park!
---
What was on Scoil Bhríde's walls when the school closed on March 13th?
See can you spot your art, classroom, corridor! We can't wait to fill the walls again.
---
Can you find the three words?? Send your answers to your teacher on SeeSaw!
---
A nice way to explain the different phases to children.
---
Cork County Council through its Library and Arts Service and its Creative Ireland Culture Team, invites you to take part in our LEGO STEAMathon which commences online during the week of 11th May 2020.
Each week staff post two short video clips on how to make an easy LEGO model based on a STEAM related theme, starting with science. You can choose to make the models suggested or perhaps your very own. Be as creative as you want!
Please send on photos of your models each week to localstudieslibrary@corkcoco.ie.
All will be revealed online at www.corkcoco.ie on Cruinniú na nÓg, Saturday, June 13th, 2020.
Simply log on to www.facebook.com/corkcocolibrary every Saturday to find out what each week's theme is and get building!
---
J.K Rowling has released a new children's book called 'The Ickabog.' It is available, chapter by chapter, for free on the following website. The website also contains information about a drawing competition where some of our budding artists might like to illustrate the book before its release in the Autumn.
https://www.theickabog.com/home/
---
This would be a lovely project while the weather is nice. The following pdf contains all the information you need.
Garden-Wildlife-Booklet-WEB-17MB
---
If we were in school 'Queen of the May' would be heard at assembly and in the corridors, a firm favourite with pupils and staff.
Why not sing along at home!
Bring flowers of the rarest, bring blossoms the fairest,
From garden and woodland and hillside and dale;
Our full hearts are swelling, Our glad voices telling
The praise of the loveliest flower of the vale!
Chorus:
O Mary we crown thee with blossoms today!
Queen of the Angels and Queen of the May.
O Mary we crown thee with blossoms today,
Queen of the Angels and Queen of the May.
Their lady they name thee, their mistress proclaim thee,
Oh, grant that thy children on earth be as true.
As long as the bowers are radiant with flowers,
As long as the azure shall keep its bright hue.
Sing gaily in chorus, the bright angels o'er us
Re-echo the strains we begin upon earth;
Their harps are repeating the notes of our greeting,
For Mary herself is the cause of our mirth.
---
Reading aloud is very important for fluency. Why not try with this funny Ken Nesbitt poem! You could record yourself reading and upload it to Seesaw.
I Let My Sister Cut My Hair
I had to get a haircut,
It was looking much too long.
I let my sister cut it,
I mean, what could she do wrong?
She clipped some bald spots here and there,
She whacked the sides a little,
And then she shaved a three-inch stripe
directly down the middle.
She chopped some sections super short,
left others long and wild,
then shaved one eyebrow off before
she looked at me and smiled.
I don't think that I'll let her
give me haircuts anymore.
Or maybe I'll just wait a while;
at least until she's four.
— Kenn Nesbitt
---
Congratulations to Callie in Ms Pender's 5th class who won an Egg/Stone painting competition run by Merck. I think we can all agree that her winning stone is absolutely beautiful! Maith thú Callie!
---
Internet safety in your home is very important now that we are online a lot more. The following document is a good guide for keeping your family safe online.
Managing Online Safety in the Home (2)
---
The Food Dudes initiative was always a great success in Scoil Bhríde with our pupils tasting lots of fruit and vegetables and winning certificates and prizes for trying out new foods. School might be closed but you can experience Food Dudes fun in your home! There are games, worksheets and videos for parents to download for primary school children of all ages to make learning about fruit, vegetables and healthy eating fun.
Each week new resources, in Irish and English, will be added.
https://www.fooddudes.ie/food-dudes-fun-at-home/
---
For any pupil who is feeling a little anxious or worried, the following link will take you to this free picture book.
https://en.calameo.com/read/000777721945cfe5bb9cc?authid=Xu9pcOzU3TQx
---
Today, the 26th of April, is the anniversary of Nano Nagle's death. Nano Nagle was the founder of the Presentation Sisters. We ask Nano for inspiration and peace during these times.
We can all sing Nano's song 'Who will light the lantern?' at home today.
Who will light the Lantern?

There was a time, such a time when hearts were hurting,
Longing to find some peace of mind, find an open door.
I knew a time, such a time when hearts kept searching,
Trying to see through darkness to free, a heart without its soul.
Chorus:
Who will light the lantern and keep it burning bright?
Who will search the darkness where shadows seek the light?
Who will find the courage to sing a different song?
Who will light the lantern and go one step beyond?
We knew a place, such a place in the future,
Where someone is lost, always a cost with uncertainties.
We know a space such a space in our future,
Where love heals the pain, love lights the flame
through the nights of years. Repeat Chorus
---
Seesaw is a digital portfolio tool which allows pupils to store their work in an online space and gain feedback from their teacher. It can be used on a computer (PC) or tablet. It effectively enables teachers to set tasks or assignments and include instructions or templates for students to use at home.
We hope to have the 'seesaw' app up and running for our pupils soon. The following pdf is a concise explanation for parents on how to use the app and what to expect!
---
A reminder of how to access school books online plus a word document showing you where each sign in is online
Click register

select Teacher

Fill in any username, email and password

For 'roll number' use the code PRIM20
Click 'Student Resources'

Filter to the year group and book title you require

make sure 'Online Book' is selected under resources
Click 'Log in'

Username – primaryedcobooks

Password – edco2020
Email username: trial@growinlove.ie

Password:growinlove
---
The BBC have launched a new virtual learning programme called 'Bitesize Daily.' Sir David Attenborough is teaching about geography and wildlife including animal behaviours and the world's oceans. The website can be accessed by clicking on this link.
https://www.bbc.co.uk/bitesize/dailylessons
---
Click on this link for the printable version to play garden birds bingo! Keep count of how many you see or take a picture to show teacher.
http://botanicgardens.ie/wp-content/uploads/2020/03/Garden-Bird-Bingo_print.pdf
---
---
---
East Cork's Sherpa Kids have put together an activity pack with ideas to keep children active and busy over the Easter holidays. You can access these ideas by clicking on the link below.
Sherpa Kids East Cork Easter Activities 2020
---
There are some lovely Easter themed Science experiments, like those shown above, to be found on the following website.
https://www.science-sparks.com/the-best-easter-science-for-kids/
---
An Post and Children's Books Ireland have created an 'ImagineNation' pack full of printable activities for all ages to complete.
---
More printable pages to keep everyone busy!
_archivetempmylockdownlibrary.pdf
2020 Covid-19 time capsule sheets
---
Who loves the Gruffalo? Axel Scheffler has illustrated a digital book for primary school age children, free for anyone to read on screen or print out, about the corona virus and the measures taken to control it.
https://nosycrow.com/blog/released-today-free-information-book-explaining-coronavirus-children-illustrated-gruffalo-illustrator-axel-scheffler/
---
An Easter Quiz from the people at RTE Junior. There will be a new quiz every Friday!
https://www.rte.ie/radio/radioplayer/html5/#/podcasts/21748670
https://www.rte.ie/radio/radioplayer/html5/#/podcasts/21744904
---
---
---
These videos teach us all about Easter and Holy Week.
Some beautiful hymns connected to Easter
---
---
Some Art and Craft ideas for you to try over Easter!
Sock Bunnies!
To make a 'Sock Bunny' you will need:
a small sock
old material
large pom-pom or cotton wool
googly eyes or a marker to draw them on
ribbon
rice
Step one:
Fill your sock with about a cup of rice, depending on the size of your sock. Tie clear rubber bands twice to create a head, one on the neck and one on top of the head.
Step two
Cut a contrasting piece of material to create a "belly" for the bunny, glue onto sock.
Step three
Glue on the eyes (if you don't have googly eyes then draw them on), teeth (a tiny square piece of material cut down the middle that resembles teeth), pom pom/cotton wool on the back, and a nose (small rounded triangle piece of material).
Step four
Tie a bow around the sock bunny.
Cut the top of the sock in half to create ears on the sock bunny. Snip off the corners to make the ears slightly rounded.
Salt Dough Easter Eggs
You will need:
flour, salt, water
rolling pin
straw/pencil
baking paper
paint
ribbon
To make the Salt Dough:
Mix up 1 cup flour, 1/2 cup salt and 1/2 cup water. Stir together all three ingredients until a dough forms. Kneading the dough a couple times can help make it smoother. Roll it out and cut out your egg shape. Make a hole at the top with a straw/pencil so you can hang the ornament.
Place the salt dough Easter eggs on the baking paper and bake at 120C for 2 hours. Once the shapes are baked, dried and thoroughly cooled, it's painting time! Once the paint has dried add polka dots or lines of decorations to the eggs using markers or paint pens. Loop ribbon through the holes and hang.
An Easter Wreath that you can hang on your door for your neighbours to see.
Paper plate
coloured paper
Glue
Ribbon
Scissors
DIRECTIONS
Cut the inner portion from the paper plate, so that your have the outer portion intact.
Design your eggs onto a page and cut them out.
Glue the eggs onto the back of the paper plate wreath.
Cut a piece of ribbon, make a bow and attach to the front of the wreath.
Cut another piece of ribbon, form a loop and attach to the back of the wreath.
Hang and enjoy for Easter.
---
---
---
Easter Egg Rocky Road
Ingredients:
225g dark chocolate broken into pieces
100g unsalted butter cubed
2 tbsp of cocoa powder
2 tbsp of golden syrup
100g rich tea biscuits
50g mini marshmallows
200g chocolate mini eggs
Method:
Line a 20 x 30cm tin with 2 sheets of clingfilm. Put the chocolate and butter in a large bowl set over a saucepan of gently simmering water and melt until smooth and glossy.
Remove from the heat and add the cocoa powder and golden syrup. Mix together until fully combined and leave to cool at room temperature for about 15 minutes.
Put the biscuits in a freezer bag and use a rolling pin to break them up. Stir into the cooled chocolate with the marshmallows and 150g of mini eggs.
Pour the mix into the tin and down until even. Scatter over the remaining mini eggs and leave to set in the fridge for one hour.
Remove from the tin and cut into bars to serve!
Chocolate Brownies.
375g dark chocolate
375g butter
6 eggs
350g caster sugar
1 tbsp vanilla extract
225g plain flour
250g chocolate chips
mini chocolate eggs to decorate
Preheat the oven to 180c. Grease and line with baking paper a 33x23cm tin.
Melt together the chocolate and butter in a saucepan over low heat. Be careful not to burn the chocolate. Leave to cool until room temperature.
Beat together the eggs, caster sugar and vanillar extract. Add to the chocolate. Fold in the flour and chocolate chips.
Pour into the prepared pan. Bake for 25 minutes or until just set. It will continue to cook once it is removed from the oven.
Decorate with your Easter mini eggs and serve!
---
---
Card games are a lovely past-time for all the family. The following website has some ideas for new and old games!
https://www.kidspot.com.au/things-to-do/activities/indoor-play/snap-12-classic-card-games-to-teach-the-kids/image-gallery/680ef359d9fc3b3a6c4031132b55d06e
---
The 'Seomra Ranga' website has a 'stay at home' general knowledge quiz everyday. They upload a new one daily and if you enter you could win €20!!
https://www.seomraranga.com/2020/03/stay-at-home-quiz-6/
---
Take out your atlas and see can you work these out!
---
These are some nice art competitions happening at the moment.
Design your own socks and you might get the design printed on socks for all your class!
https://irishsocksciety.com/kidsdesign/
Toyota Ireland are asking young artists to draw, paint or build their vision based on a theme that will be announced each Monday at 10am (Beginning on Monday March 30th and running for 4 weeks). The deadline is 12pm each Friday! This weeks theme is 'Family and Friends.'
https://www.toyota.ie/world-of-toyota/Build-a-Better-World-Art-Competition.json
The O'Brien Press announced their 2020 'Design a Cover Competition' with Children's Books Ireland. Closing date is May 1st.
https://www.obrien.ie/design-a-cover-competition
Design your own PENNI teddy for Temple street and University College, Dublin.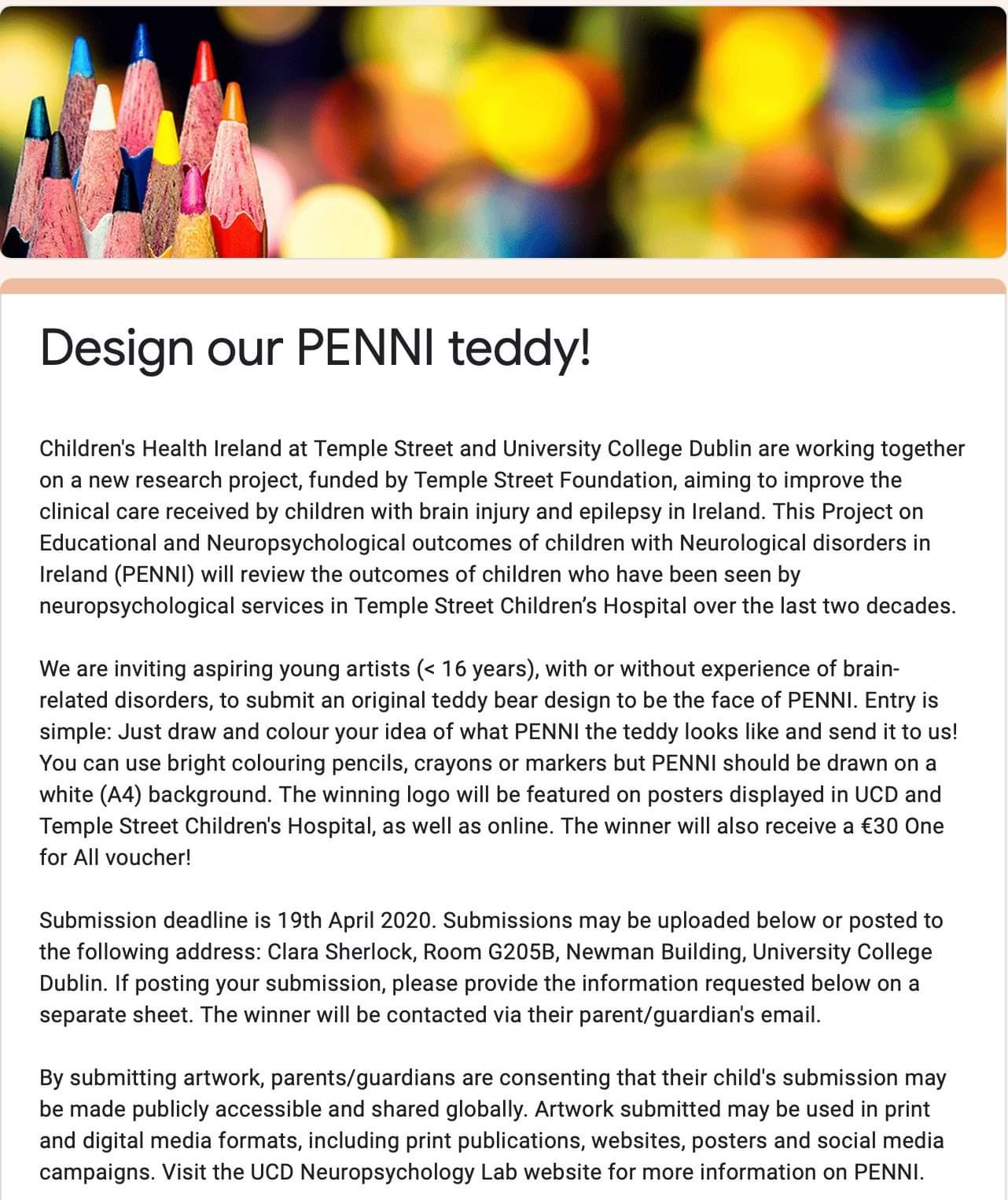 https://docs.google.com/forms/d/15xZQp8JJ1_SKZtzSdSAamGkcRTxpQiF7cWNsWlBoD74/viewform?fbclid=IwAR0YwqmEKThmebXcfICDbWRlvJNxfSs7LuQ-f5Hjj7XzftHgnfftKOAzNfE&edit_requested=true
---
The following websites might be useful for any pupils needing a little extra support.
https://inclusiveteach.com/2020/03/20/150-sensory-learning-ideas/
https://m.facebook.com/story.php? story_fbid=2926280514146234&id=556096697831306&__tn__=%2As-R
Apps-for-supporting-Students-with-Autism
https://nursedottybooks.files.wordpress.com/2020/03/dave-the-dog-coronavirus-1-1.pdf
---
---
---
---
---
---
It is TECH WEEK! Following social distancing guidelines put in place due to Covid -19, all Tech Week activities have been designed to ensure that students are able to participate fully at home or online with friends ensuring their safety and overall well being. You can learn all about Tech Week 2020 and get involved by clicking on the link below.
https://www.techweek.ie/organisers/primary/
---
---
---
An activity for all the family! Where will you go and what will you do…….
---
Dublin Zoo and Edinburgh Zoo have live webcams! You can look at all the lovely animals. Feeding time is approximately 2.00-2.30pm.
The links are as follows;
https://www.dublinzoo.ie/animals/animal-webcams/
https://www.edinburghzoo.org.uk/webcams/panda-cam/
---
#RTEHomeSchool launches on Monday, March 30th. It is a daily, scheduled virtual classroom for all primary school children. Watch it weekdays on RTÉ2 from 11am, anytime on the RTÉ Player and get all the resources at https://www.rte.ie/learn/
---
"On the Banks of my own lovely Lee"
Build your own mini Cork! Jason O Gorman has made some of Cork's landmarks available for you to print/draw, colour and cut out. You can build your own county!
Why not pretend to be a tour guide for these landmarks by researching what you can do and see there and presenting to your family. You could also design a brochure encouraging everyone to visit Cork! The following website has the images you might need.
https://www.jasonogorman.ie/mini-cork
---
Typing is a very useful skill to have and a fun activity to do. The following websites will help your child learn this valuable skill.
https://www.typing.com/student/lessons
https://rapidtyping.com/typing-instructions.html
---
Remember that physical activity is very important – Let's aim for 30-60 minutes daily.
---
Popular children's author David Walliams is releasing a FREE audio story every day for the next 30 days. Click on the following link to access this lovely resource.
https://www.worldofdavidwalliams.com/elevenses/
---
The Irish National Teachers' Organisation (INTO) have compiled some practical tips and tricks on home-based learning during the current school closure. Please follow the link below.
https://www.into.ie/2020/03/18/tips-and-tricks-home-learning/
---
Múinteoir Valerie has some at home activities and lessons for children with ASD.
https://www.muinteoirvalerie.com/at-home-activities-and-lessons-for-children-with-asd/
---
For all our budding artists, Cork artist for Marvel's Star Wars and Spider-Man, Will Sliney, is posting a daily challenge to draw on his twitter account. A great skill to develop while you have time!
https://twitter.com/WillSliney?ref_src=twsrc%5Egoogle%7Ctwcamp%5Eserp%7Ctwgr%5Eauthor
---
---
---
---
---
---
---
---
---
---
The following are some nice websites to help your child during the COVID-19 crisis.
Here are some ways to access school books online
Click register

select Teacher

Fill in any username, email and password

For 'roll number' use the code PRIM20
Click 'Student Resources'

Filter to the year group and book title you require

make sure 'Online Book' is selected under resources
Click 'Log in'

Username – primaryedcobooks

Password – edco2020
Email username: trial@growinlove.ie

Password:growinlove
World Book online has made available a collection of all their ebooks and projects. Click on the link below to access this wonderful resource.
https://www.worldbookonline.com/wb/products?ed=all&gr=Welcome%21
It is now possible to join the library online and use @Borrowbox straight away.
Go to https://www.librariesireland.ie/join-your-library
Complete the registration

Set a PIN

You will now be able to log in to Borrowbox with your registration details and pin to download eBooks and audio books.
---
Advice from Chief Medical Officer to Parents of School Children regarding the COVID-19 (Coronavirus).
Please click on the following links:
The following short video is a nice way of answering some of your child's questions regarding COVID-19
https://www.brainpop.com/health/diseasesinjuriesandconditions/coronavirus/
---
We welcomed Ms Ann Foulds to Scoil Bhríde in March. Ann is a schools' outreach officer and she gave a workshop on 'Plastic Free 4 Schools' to senior infants and sixth class. Ann spoke about avoiding single use plastics by replacing your water bottle with a reusable one. She also encouraged us to reduce our waste and maximize recycling. Ann recommended 'litter-less lunches' where we could use sandwich bags instead of tinfoil and large tubs of yogurt per household instead of lots of small cartons . The pupils at the workshop are now ambassadors for change in their school, families and communities. It was an interactive, interesting workshop and pupils and staff learned a lot.
---
We took on the challenge of 'Engineering Week 2020' with aplomb in Scoil Bhríde. A big 'thank you' to Mrs Pender and her class for coordinating the activities. We met on Monday in the big hall and every class from juniors to sixth was given a challenge to complete by Thursday. We gathered again on Friday in the big hall to watch a Power-point presentation of the challenges completed and the engineering feats accomplished! It was a great week!
---
Our after-school choir rehearsed for weeks to perform at this years 'Cór- Fhéile na Scol' in City Hall. Unfortunately, due to the COVID-19 virus, the concert was cancelled. While we were disappointed, a pizza party in place of our final rehearsal lifted all our spirits! Well done to all choir members for their hard work and commitment to the choir.
---
Tennis is in the sun was great fun!!
---
Congratulations to our dancers and ballad group singers who recently reached the East Cork final of Scór na bPáistí. The girls were a credit to our school and their families. Maith sibh!
---
---
The RSA (Road Safety Authority) visited Scoil Bhríde to teach us about safe road usage as pedestrians, cyclists and car passengers.
---
---
We celebrated Saint Brigid's Day with a lovely prayer service from 5th class and our sixth class pupils made St Brigid's crosses. As Saint Brigid is our patron saint, we make crosses every year but this year was very special! Mrs Murphy received a request for St Brigid's crosses from Adi Roche, an Irish activist and founder of 'Chernobyl Children's Project International.' Ms Roche was going to Rome for an audience with Pope Francis and because her visit coincided with Saint Brigid's Day, she wanted to bring him a St Brigid's cross. Scoil Bhríde to the rescue! We sent ten crosses and a letter penned by some of the girls in 6th class to Rome. Well done to all the girls involved!
---
---
The Nativity
Some of Mrs O' O'Keeffe's students created a beautiful multi-media nativity scene this Christmas. It is on display in the side altar in the Holy Rosary Church in Midleton. Some of our pupils visited it in the lead up to Christmas and they were very impressed by the creativity and talent that went into it. Well done girls! Absolutely beautiful!
---
Choir
The choir has been very busy this term performing in venues such as the AIB and Day Care Centre in Midleton and Cork airport. They are a pleasure to listen to and their behaviour, enthusiasm and commitment to the choir is outstanding. Maith sibh!
---
Christmas Concerts
Congratulations to all pupils and staff who entertained us with Christmas concerts this year.
The talent on display was spectacular and created a lovely Christmas spirit in the school.
---
Christmas Reindeer
---
Sounds of Christmas
Scoil Bhríde has been a hive of activity as we prepared to record our first CD. Pupils from junior infants to sixth class worked very hard learning a variety of Christmas songs and hymns and their dedication to the project is to be commended. Five staff members travelled to Claycastle recording studio where the instrumental backing tracks were recorded. John and Warren, from Claycastle studios, came to Scoil Bhríde and the children were then recorded. It was a very exciting day, one we hope the pupils will remember for years to come. The Cds are now on sale and the profits will go towards building a running track for the school and community.
Recording the CD
CD soloists
---
---
Science week took place in November and classes carried out a variety of Science experiments while 6th class held a Science Fair to showcase a range of experiments. We also took part in Maths week this year and we certainly have some budding scientists and mathematicians in our midst!
---
---
---
---
A facilitator from 'Zeeko' came to Scoil Bhríde this term to educate our pupils on Internet safety, technology and cyber bullying. They provide Internet safety seminars to pupils, staff and parents and we thank the parents who attended on the night. As this is a very prevalent issue in society at the moment, we recognise the need to provide as much education as possible on the subject.
We also welcomed Garda Crockett from Midleton Garda station who spoke very passionately on the dangers of social media usage and the steps we can take to be safe online. He strongly recommended not having your name as your username in any social media app, to turn off your location and make sure that your photographs do not reveal your location, for example a photo in a school uniform/ gaa jersey.
Garda Crockett's top tip for parents is to ensure that phones and devices are not allowed in your child's bedroom, especially by night.
---
---
We celebrated Tree Day on the 3rd of October. A tree was planted for each year group, from Junior Infants right up to Sixth Class; so eight beautiful new trees in our school grounds in total. We are looking forward to see them flourishing and we are glad to be able to do something to help our environment!
Click on this link to find out more about Tree Day
---
---
---
---
Scoil Bhríde
As I sit and eat my breakfast
I hear the radio squawk
It's the Ian Dempsey Breakfast Show
With music, news and talk
Mom has packed my lunch box
With sandwiches of ham
And also Keeling's strawberries
Which are as nice as jam
My school is called Scoil Bhríde
So near that I can walk
And meet my friends along the way
And talk all kinds of talk
We have a choir and a band
Do dancing sports and art
Though we have many pupils
Each one plays a part
We need to have a running track
Because we like to run
That's why we need the money
So we can have more fun!
We love our plays and concerts
And do PE without a fuss
So Keelings and Ian Dempsey
Come and visit us!
---
---
---
August 2019
Dear Parent(s)/Guardian(s),
Fáilte romhaibh ar ais! Welcome back! I hope this new school year will be a very truly wonderful one for you all. I hope you made the most of the sunshine in between the showers!
A very special welcome to our New Junior Infants. Remember that Junior Infants will finish at 12 noon each day until Monday 16th of September when they will finish at 1.20 p.m. A very special welcome also to all other new pupils to St. Brigid's! We hope you will settle in very well in and be very happy in Scoil Bhríde!
School re-opens on Thursday 29th August. Doors open at 8.20 a.m. and school starts at 8.40 a.m. Please note that there is no supervision of pupils before 8.20 a.m.
Reminder:
The beginning of the school year is a time to create good habits! For this reason, I am asking you to try to ensure that your child:
is on time for school
is wearing full uniform
has a healthy lunch
has necessary school books and has homework finished well.
is present every day
Just a few pointers for the beginning of the school year!
Please remember that the traffic system is a one way system, the entrance is by the new building and the exit is nearer the old building.
Please be aware of where you are parking and I am appealing to you not to park on the pedestrian crossings within the school grounds.
Road Safety:
Please encourage your child/children to use the pedestrian crossing. We will do the same at school.
Morning Routine:
Pupils in Junior & Senior Infants go directly to their classrooms in the Junior School (after 8.20 a.m.).
Pupils from 1st to 6th Class inclusive (Senior School Pupils) bring their school bags to their classrooms before going out onto the yard.
If it is raining pupils go directly to the big hall. Assembly which will take place in the hall, or outdoors if the weather permits, begins at 8.40 a.m.
Replacement of Windows in the Junior building:
As I mentioned previously, we were successful in securing funding for the replacement of windows in the Junior School building. As you will see, unfortunately, this hasn't happened! The grant provided wasn't sufficient for the replacement of all the windows so we had to apply to the Department of Education for additional funding. Luckily, we received sanction for the additional funding recently and works will begin as soon as possible.
This work will need to be completed within a set timeframe so we will be going ahead with the project during the school term which is less than ideal, however we have had other building projects taking place while school went on in the past i.e. the ramps and the toilets in the hall and the replacement of the roof windows also.
It will really only concern the pupils in the Junior School, and I will be letting you know when your child's/children's class/classrooms will need to be vacated and the pupils relocated.
We will be depending on you for your support and vigilance during this time and we apologise in advance for any inconvenience caused by the ongoing work.
I will be in touch with you when I have more details and in particular at the time when the windows will be replaced in your child's class.
Please see details of teachers, classes and classrooms by clicking on the link below.
Teachers and their Classes 2019 – 2020
With every good wish and God's blessing for the coming year!
Sile Uí Mhurchú,
Principal
---
---
| | | |
| --- | --- | --- |
| Cuisle Room 1 | Fota | 6th June |
| Cuisle Room 2 | Airtastic | 23rd May |
| Cuisle Room 3 | Tír na Sí | 14th June |
| Cuisle Room 4 | Airtastic | 23rd May |
| Junior Infants | Leahy's Farm | 12th June |
| Senior Infants | Rumley's farm | 13th June |
| 1st Class | Youghal | 11th June |
| 2nd Class | Cork City Gaol & South Presentation Convent – Nano Nagle Tour | 12th June |
| 3rd Class | Cuskinny, Cobh | 18th June |
| 4th Class | Mardyke Arena | 7th June |
| 5th Class | Lifetime Lab, Cork City Goal & Planet Bowling | 10th June |
---
Take a look at a couple of video clips of some of our 4th class girls playing tennis. Michael Russell was our tennis coach for Active School Week. Next stop …. Wimbledon!
Dancing with Billie Jean was great fun for both the children and their teachers. Take a look at some of the dance routines we learned in the clips below!
Parachute Fun with 3rd Class
---
---
Congratulations to the 6th class girls who won first prize in the 2019 Midleton Arts Festival Poster competition.
---
---
---
---
---
---
---
---
Comhrá agus Dramaíocht
John Spillane Concert
Ceilí Mór
6th Class Prayer Service for Saint Patrick
Tráth na gCeist
---
---
---
---
An internet safety message from Joe Kenny – Founder of Zeeko (www.zeeko.ie)
Schools and parents have contacted Zeeko about the "suicide game" the MOMO challenge.

WHAT IS THE MOMO CHALLENGE
The "Momo challenge" has recently started to appear on social media platforms as a form of cyber-chain letter. Chain letters provide a great deal of shock, or trigger anxiety, which prompts the reader to share the stories/ information or obey the tasks that the chain letters contain. Gardai have issued a warning regarding this "suicide game".
Within this game, there is a woman who tells individuals to communicate with her via WhatsApp and other platforms. When contact is made, the woman reportedly asks individuals to perform dangerous tasks, including self-harm.
HOW CAN WE KEEP CHILDREN SAFE ONLINE – Tips for Parents
ChatBudi : Ensure that your children have a ChatBudi. This is someone over 18 years of age that a child trusts and feels comfortable talking about suspicious online activities.
Reassurance : Speak to your children about online dangers and create awareness of the importance to chat about any worries or unusual behaviour that may be happening online.
Online Stranger Danger: Ensure that your children only contact people online that they know in the real world.
Age Appropriateness: Ensure all internet connected devices are restricted to age suitable content.
Click on the link below to download a poster with tips to keep your children safe online – https://zeeko.ie/wp-content/uploads/2019/02/Zeeko-Primary-School-Poster.jpg
Feel free to share this message and poster.
Best Regards
Joe Kenny
Zeeko Founder

---
Cookery Club
---
---
St. Brigid's Day
We had a wonderful St. Brigid's Day here in Scoil Bhríde. A big thank you to all the girls who prepared and led the morning prayer service in honour of St. Brigid. Thanks also to the girls from sixth class who made St. Brigid's crosses for our new pupils this year.
---
---
---
---
Please read: SCHOOL WEBSITE PRIVACY STATEMENT
---
---
---
---
---
---
---
St. Brigid's Draft Mobile Phone Policy
Introduction and Rationale
The use of phones is now an integral part of the lives of children and young people. While this can be a positive development, many concerns have been identified including some risks associated with the misuse, abuse and possible overuse of these devices and the various associated technologies.
They are also a common source of bullying through messaging and the misuse of social media.
Accordingly, the following procedures have been put in place to ensure minimal and safe usage of mobile phones in St. Brigid's School.
School staff will use the school phone to contact parents when necessary.
Parents are asked to call the school phone, 021-4631593, if they wish to get a message to their child(ren) in the school.
The staff sincerely advocates that pupils would only bring a mobile phone to school when considered absolutely necessary.
Where it is deemed necessary for a mobile phone to be brought to school by a child:
written permission from a parent or guardian is required and
the parent needs to state that they understand the content of the mobile phone policy as outlined below.
Mobile phones must be turned off before entering the school grounds.
Phones are given to the class teacher or special education teacher in the morning or later in the day as the need arises (pupils attending learning support in the afternoon).
The phones are locked away during the school day. Teachers take no responsibility for damage to or theft of mobile phones.
It is the responsibility of the pupil to retrieve her phone at home time and to place it in her bag before leaving the building.
A pupil who keeps her phone and uses it, or whose phone is rung or used to send or receive a text message/social media message or image, during the school day will have her phone confiscated and will not get it back until a parent/guardian collects the phone from the school.
Under no circumstances can pupils take photographs or make recordings with their mobile phone in class, during the school day or on the school grounds before or after school.
Mobile phones are strictly forbidden on any school trips and outings. Parents are asked to contact the school if they wish to get a message to their child and the school will be able to get in contact with teachers on the trip or outing to pass on any message.
The Board of Management is not responsible for any text, photo or social media content sent or received during the school day or if a phone is lost, damaged or stolen.
Finally, the school accepts no liability for mobile phones or any consequences of the use of mobile phones.
Children and young people need to be guided and supported to become good digital citizens. We strongly encourage parents to use Webwise. Websise provides parents with easy access to practical advice and information to help address their concerns about the various issues facing their children in the online environment. To find the full suite of awareness and education resources please visit www.webwise.ie
This policy will be reviewed regularly or as necessary
Signed: _________________________ Date:____________
Sr. Anne Coffey, Chairperson, Board of Management
---
Exciting Times in Cuisle!
---
---
Scoliosis is a disorder that causes an abnormal curvature of the spine.
Types of Scoliosis:
Infantile Scoliosis
Juvenile Scoliosis: Affects children between the ages of 4 and 10
Adolescent Scoliosis: Affects young people between the ages of 10 and 18
Adult Scoliosis
Boys and girls can develop Scoliosis
If Scoliosis is detected early, it may be possible to slow down the progression of the curve by various treatments including Casting and Bracing.
It only takes a few minutes to check your children at home. The illustration above shows the key points to watch out for. If you have any concerns, please visit your GP.
EARLY DETECTION = BETTER CORRECTION
For further information please visit the website below:
http://www.scoliosis-ireland.ie
---
---
---
---
---
---
---
CORK CITY SPORTS
---
---
---
---
---
---

---
---


---
---
---
---
Click here for all the information and support you need to ensure your child makes the most of their time online
---
Please click here for advice (issued by the HPRA) about the Risk of Fire regarding the use of Head Lice Treatment Products.
---
**Keep scrolling to see recent newsletters and other links
---
---
---
---
---
---
---
---
---
---
---
---
---
---
---
---
---
---
---
---
---
---
---
---
---
---
---
---
---